Hi Everyone!
I feel especially optimistic today. I just love September! I think it is my favorite month. The weather is cooling a bit (but not too much, yet), the kids are back in school, things just seem really great. What about you? What is your favorite month?
Today, I want to share with you this delicious way to cook vegetables. I learned it when I went to Reynolds cooking school/test kitchen. You make a packet with parchment paper (en papillote…it's French :), bake in the oven until the veggies are tender and then open the packet on a plate and eat straight out of it.
Step 1:
Cut a heart shaped piece of parchment paper and place
your veggies in the middle with a little oil and seasonings.
Step 2:
Fold over the edges of the parchment paper and use paper clips to seal the packet.
Bake the veggies in a 425 degree oven for about 10-15 minutes.
Step 3:
Carefully remove the paper clips and open the packet. Eat right out the parchment paper!
And since we're talking French/France today here is a picture of my Mom doing some sightseeing at Chenonceau Chateau and gardens. My Mom and Dad are serving an LDS mission in France for 18 months. What an adventure!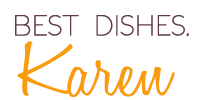 P.S. Make sure to join in the fun on
Instagram!
It's my new fun time sucker 🙂