Hey, in case you missed it I was on Fresh Living earlier this week.
I made the homemade taco seasoning and the taco meat (no browning, put it in raw raw raw!).
It's always fun to be with Debbie and Casey!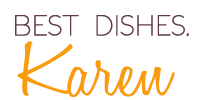 P.S. This weekend is my son's 5th birthday!!! When I started my blog he was 7 months old. I can't believe how time flies. He is my little buddy!