So, obviously this post is not food related. But I thought I would share this awesome trick with you that has been so helpful to me! My ears are no longer bothered by my earrings! Awesome.
Also, just wanted to let you know that I blog over here at Today's Mama about once a week. It has been a bit freeing for me because I blog about whatever I want (hence the earrings post). I mostly blog about food but it's not necessarily slow cooker recipes. I will keep this blog totally slow cooker related (for the most part) and then blog other interesting things over here.
Here are some of my latest posts:
Creamy Tomatillo Ranch Dressing Recipe (Cafe Rio Style)
Best Cookie Bars in the Whole World
Make Your Own Laundry Detergent
Thanks so much for supporting me in all my endeavors!!!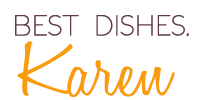 P.S. Make sure to join in all the foodie fun on Twitter, Facebook and Pinterest!