I don't often do posts that are non-food related but we had such a good time on the Disney cruise that we went on a couple of weeks ago that I had to share!
Now, I've been on 10 cruises (yes, that's a lot, I know. My husband is addicted and says that he works his second job so he can cruise 2 times a year :). But this was my first Disney cruise. And my first cruise with both kids. I felt that it was the perfect vacation. Usually when you go on a family vacation, it's not a vacation at all for the parents. It's a lot of work. And it's not that fun. Or relaxing.
The great thing about the Disney cruise is that you can have fun as a family, but when you need some quiet, relaxing time you can drop your kids off at the amazing kids camp and enjoy yourself. Then when you've gotten totally relaxed you can pick them up again. So so so perfect.
Disney's Castaway Cay is the cruise line's private island and is practically paradise.
Plenty of Disney characters to see and take pictures with on the ship. Look at how tight my son is holding onto Ariel!
The service is amazing. Our cute server was so good with our kids.
She cut up their food and made them take bites. So funny!
We sailed on the Disney Wonder, an older ship. But still awesome.
My son ran up to Donald! He loved seeing all the characters.
One of the only family pictures we got taken…I am always the photographer!
Disney is the only cruise line that has a fireworks show at sea. Pretty magical.
My daughter took this picture. She did a pretty good job.
My hair is always so crazy with the humidity, so I have to pull it back.
Kiddos in front of the Disney Wonder.
The "Mickey Bars" they ate at dinner each night. They were soooo good. I was tempted to order one!
They had a pirate-themed night. Lots of ARRRRRRRs being heard on the ship.
Pluto and Skyler on Castaway Cay.
Reagan on formal night…always holding her stuffed Minnie.
To bribe our kids to get out of the pool we offered them ice cream cones and hot chocolate.
This is only ship that I've been on that offers free sodas and hot chocolate all day long.
Reagan going down the water slide on the ship.
One thing that I loved is that Disney does not use salt water in their pools.
All the other cruise lines I've sailed with have salt water in their pools. Which isn't that much fun for kids (or parents).
Disclaimer: This post is not sponsored by Disney. Although I wish it was!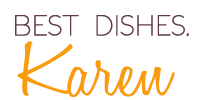 P.S. Make sure to join in all the foodie fun on Twitter, Facebook and Pinterest!