Happy Birthday to me tomorrow! If I had my way we'd do away with cake and make a big pot of this fondue. Guys, you're going to love me. This symphony bar chocolate fondue recipe has 2 ingredients in it and it is so amazing. My husband who doesn't even love chocolate was freaking out about how good it was. It's a fun party food and you can get really creative with what to dip into it…graham crackers, fruit, angel food cake, twinkies, pretzels, whatever! It's all good. The little nuts and toffee bits in the chocolate bar give it a little texture and crunch. If you have leftovers (fat chance) store them in a air tight container in the fridge. The next day you can get a little spoon out and scoop some of the deliciousness in your mouth and do a little happy dance (I'm not speaking from experience or anything…).
Symphony Bar Fondue in the Slow Cooker
Makes 10 servings
Ideal slow cooker size: 2-3 quart
Cooking time: 1-2 hours
12 oz of Symphony bars (I used 2 huge
candy bars…they were even bigger than king size)
1 cup heavy cream
1. Break up the candy bars and place
in slow cooker. Add cream.
2. Cover and cook on HIGH for 1-2
hours. Stir until creamy. Turn slow cooker to warm and dip pieces of banana,
apple, marshmallow, angel food cake, or pretzels into chocolate.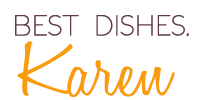 P.S. Like chocolate? Check out my other favorites (click on the picture to get the recipe):