I'm sure you've had Hawaiian Haystacks in your life. They are simply a chicken and gravy that's served over rice and topped with lots of toppings like pineapple, cheese, chow mein noodles etc. They are a very fun family dinner since every person can choose how they want to eat their haystack. This recipe is for a similar idea but with a different flavor. It's a delicious, creamy coconut and peanut sauce served with tender pieces of chicken over a bed of rice and then topped with any and all the toppings you'd like! I loved the sweet shredded pieces of coconut with the savory sauce. I also think that cilantro is a non-negotiable topping. My whole family loved this recipe and were very complimentary of me! Try it, you and your family will love it!
CrockPot Coconut Chicken Haystacks
Makes 6 servings
Ideal slow cooker size: 3-4 quart
Cooking time: 4-6 hours
6 boneless, skinless chicken thighs
1 (14 oz) can coconut milk
1/4 cup peanut butter (creamy or chunky)
1/4 cup soy sauce
1 tsp lime juice
1/2 tsp garlic powder
1/4 tsp ground red pepper (if you like it spicy, add more)
2 Tbsp quick-cooking tapioca
Topping Ideas: diced red bell
pepper, grated zucchini, peanuts, coconut flakes, cilantro, diced tomatoes,
grated carrots
1. Place chicken in bottom of slow
cooker.
2. In small bowl combine the coconut
milk, peanut butter, bouillon, soy sauce, lime juice, garlic powder, ground
red pepper and tapioca. Whisk until smooth. Pour over the top of the chicken.
3. Cover and cook on LOW for 4-6
hours.
4. Remove lid. Remove chicken
and shred.*
5. Serve chicken and sauce over
rice. Top with desired toppings.
*Karen's Kitchen
Tip: Use your stand mixer to shred meat
You can
use two forks to shred chicken, beef or pork or you can do it the easy way and
use your stand mixer. After the meat is cooked through and fork tender,
carefully remove it from the slow cooker with tongs and place in the bowl of
your stand mixer fitted with the paddle attachment. Turn the mixer to low
for about 45 seconds. It should be shredded perfectly. Use the meat
right away or store in plastic freezer bags for meals at a later time.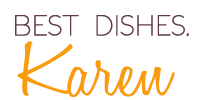 P.S. Like Thai food? Try these other delicious crockpot Thai recipes (click on the picture to get the recipe):