In this past blog post I shared my favorite go-to items that I get at Costco. I know you love that warehouse and its samples just as much as I do! If only the sample ladies could get those out a little quicker, then it would be perfect 🙂
I wanted to share with you 10 more things you should be buying at Costco. These items and prices were at my local Costco in Utah. I know that all these items may not be available at your Costco and for the same price but maybe most of them are? Let me know. Also, what am I missing? Am I missing out on a great deal? Tell me in the comments!

1. Asian Cashew Chopped Salad Kit--$4.29
Our family absolutely LOVES this salad. It has cabbage, cashews, crispy fried wonton strips, sesame seeds and a really tasty Asian dressing. When I'm feeling super lazy I'll buy the Costco rotisserie chicken to go with it. Or sometimes I'll make some seasoned chicken in the slow cooker. Either way, it's a winner. This amount is perfect for 4 people for dinner. Totally worth the dollar per person in my opinion. I find this next to all the vegetables in the big refrigerated room (am I the only one who bundles up to go to Costco?).
2. Cauliflower Florets (2 lb bag)–$3.79
For only $1.89 a pound these cauliflower florets are already cut and washed and ready to go. These are perfect if you want to make Cauliflower Mashed Potatoes, or if you want to add them to a veggie tray. I've seen so many cauliflower recipes lately like Cauliflower Fried Rice and Cauliflower Tots you may want to try. These are also found in the refrigerated produce room.
3. Kirkland Semi Sweet Chocolate Chips 72 oz bag–$9.99
I love these chocolate chips. I'm all about dark chocolate and for sure semi-sweet chocolate chips in my cookies. I love the flavor of these chocolate chips. These are great chocolate chips for cookies. They are also good to eat plain. I personally feel that these chocolate chips are 100 times better than the Nestle kind that Costco also sells. Although my very favorite chocolate chips are Hershey's Special Dark and Ghiradelli –the price on the Kirkland chocolate chips can't be beat. Just think that a regular bag of chocolate chips is 12 oz so this huge bag is like 6 small bags. That means each bag small bag would only be $1.66 each…that's way less than I pay even when chocolate chips are on sale. The only problem is that I eat a lot more chocolate chips by the handful when I have a huge bag like this at home 🙂
Some recipes that I make with this chicken are:
I love to roast these broccoli florets with a little olive oil and kosher salt and pepper. It makes it quick and easy because you don't have to wash or cut them. They are also good raw with dip. For only $1.49 a pound they are a pretty good deal…especially since it's just the florets and not all the extra stems.
If you go through hummus like me and my kids do it's a great deal to buy it at Costco. This huge 32 oz container is little more than the smaller containers at the normal grocery store. My one complaint is that my Costco doesn't carry all the good flavors that you can get at a normal grocery store. They used to carry my favorite Basil Pesto hummus but I haven't seen it in months.
This is the best price that I've ever seen on avocados at Costco. Usually it's around $6 for 6 avocados. Although you can usually find avocados for about a dollar each at the normal grocery store I've had such great luck with the quality of avocados from Costco. They are hardly brown at Costco whereas when I go to the normal grocery store I find that I pick about half good ones and half bad ones. This last bag of avocados that I got from Costco was amazing…every single one was awesome!
Bonus Item!
Have you seen these yet? They are the best! Dark Chocolate Covered Almonds with Turbinado Sugar and Sea Salt. YUM! They are about $10 a bag and worth every penny. I bought these for my dad for his birthday 🙂 He was very happy.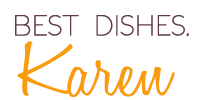 P.S. Have you see the things you should be buying at the dollar store yet?