(This is an updated post/photo from September 2011)
Awesome. Totally.
My husband thought these cajun bbq pork steaks were the best thing ever. And I must say, I liked them a lot too. The searing of the steaks retains their flavor and the flour really helps the sauce to stay nice and thick.
Now a word about the cut of meat. I picked this certain cut of meat "Pork Shoulder Butt Steaks" because it is perfect for the slow cooker. When you are picking pork cuts of meat destined for your slow cooker make sure to use anything with the word "shoulder" or "butt" or "boston" in the title. They have enough collagen and fat to really work well with the low, long, even heat. And don't worry the "butt" cut is not actually the bum of the pig, it's the shoulder. 🙂
Recipe for Slow Cooker Cajun BBQ Pork
Steaks
Makes 4 servings
Ideal slow cooker: 5 quart
Cooking time: 6-8 hours
1 1/2 lbs pork shoulder butt steaks
Flour
1/2 tsp Salt
1/2 tsp Pepper
1 Tbsp oil
1 cup BBQ sauce
1 tsp cajun seasoning
1/2 tsp garlic powder
1/2 tsp onion powder
1. Take about 1/4 cup of
flour and the salt and pepper and sprinkle on a plate.
Dredge the steaks in the flour until coated nicely.
2. Warm the oil in a pan over medium
heat. When the oil is hot, sear the steaks on both sides for about 1
minute. Place the steaks in the slow cooker.
3. In a bowl combine the BBQ sauce,
cajun seasoning, garlic powder, and onion powder and then pour over the top of
the steaks.
4. Cover and cook on LOW for 6-8
hours (depending how hot your slow cooker cooks). The meat should be fork
tender and literally falling off the bone.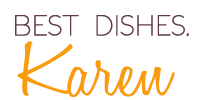 P.S. Have you seen my kitchen tips on Instagram? Here's the latest.