A healthy and tasty slow cooker recipe for quinoa with avocado, black beans and salsa verde.
I love this recipe because it is quick to get in the slow cooker and it's healthy and filling.
One of my favorite recipes that I've made is this Mexican quinoa recipe. I decided to switch it up a bit and create a new recipe out of it. I used salsa verde and lots of avocado for some creamy yumminess. It's light and healthy and very quick to prepare. I love this recipe for a hot summer day. If I've said it once I've said it a million times–using your slow cooker in the summer is the best! It doesn't heat up your kitchen and you can prepare the food earlier in the day and enjoy the afternoon at the pool. Go here for my other slow cooker summer recipe ideas.
Avocado, Black Bean and Salsa Verde Quinoa
Makes 4 servings
Ideal slow cooker size: 3 quart*
Cooking time: 2 hours on HIGH or 4
hours on LOW

1 (14 oz) can black
beans, rinsed and drained
3/4 cup quinoa (rinsed)
1 1/2 cups water
3/4 cup salsa verde
(use your favorite brand)
1 bay leaf
1 tsp cumin
1/2 tsp salt
1/2 tsp garlic powder
2 avocados, diced
1 roma tomato, diced
1/4 cup cilantro

1. Combine the
black beans, quinoa, water, salsa, bay leave, cumin, salt and garlic powder in
slow cooker.
2. Cover and cook on HIGH for 2
hours or on LOW for 4 hours.
3. Salt and pepper to taste.
4. Serve topped with the diced avocados, tomato and cilantro.
*For this recipe I used this Hamilton Beach 3 Quart Slow Cooker: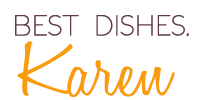 P.S. Make sure to join in all the foodie fun on Pinterest!

Visit Karen Petersen's profile on Pinterest.