This is a healthy soup that is chock full of goodness! Lentils, split peas, wild rice and pearl barley give this soup lots of texture and nutrition. Add some chicken into the soup for extra protein if you want, or leave it out.
You know what's crazy? When I make soup with lentils, split peas and barley and my whole family loves it. My kids and husband and I loved this soup. I was a little skeptical that I'd get some ewww's from my children, but I just heard slurping!
One extra benefit of this blog is that my kids have really not known differently. We try new foods ALL the time. My son is now 6 1/2. I started this blog when he was 6 months old. I've made common foods and weird foods and they pretty much eat it all. That is a total BONUS for me as a mom. Something I didn't predict but I'm very happy about now. (Not saying they're perfect because they're totally not but that's one thing that I'm happy with).
Slow Cooker Barley, Lentil, Split Pea and
Wild Rice Soup
Makes 8 servings
Cooking time: 6 hours
Ideal slow cooker size: 5-6 quart
8 cups water
3 chicken breast halves (optional)
1/2 cup green lentils
1/2 cup wild rice
1/2 cup pearl barley
1/2 cup green split peas
4 tsp chicken bouillon
1 Tbsp dried onion
1/2 tsp dried basil
1/2 tsp dried thyme
1/2 tsp salt
1/4 tsp pepper
1 bay leaf
1. Add all the ingredients listed into the slow
cooker. Give a bit of a stir.
2. Cover and cook on LOW for about 4-6 hours, or
until lentils are tender and chicken is cooked through.
3. Remove chicken (if using) and cut into pieces or
shred it. Add it back into the slow cooker.
4. Salt and pepper to taste and then ladle into
bowls and serve.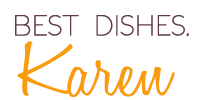 P.S. Make sure to join in all the foodie fun on Pinterest!