A flavorful soup with pesto, chicken and chewy rice or barley.
Makes 4-6 servings
Ideal slow cooker size:  3-5 quart


2 (14 oz) cans chicken broth (or 3 cups water + bouillon)
1 shredded carrot
2 ribs of celery, finely diced
1 Tbsp dried onion
1 tsp dried oregano
2 tsp minced garlic
1/2 medium eggplant, shredded (or you can use 1/2 of a zucchini)
3 boneless, skinless chicken thighs (frozen is fine)
1/2 cup pearl barley or 1/2 cup long grain brown rice
1 1/2 cups milk, room temperature (cream or even half and half would be awesome)
1/4 cup grated Parmesan cheese
1/2 cup pesto
1.  Add broth, carrot, celery, onion. oregano, garlic and eggplant to slow cooker.  Stir.  Add in chicken and rice and stir.
2.  Cover and cook on LOW for about 4-6 hours until chicken is cooked and the rice/barley is chewy and soft.
3.  Remove chicken and shred or cut into small pieces.  Add back into slow cooker.
4.  Stir in milk, Parmesan and pesto.  Cover and cook for another 10 minutes on HIGH.
5.  Ladle into bowls and serve with additional pesto and Parmesan, if desired.
Review:
I love pesto!  Yummers.  I need to eat it more.  I really liked it in this soup.  However, I was wishing that the soup was a bit thicker.  I would probably add it a bit of flour next time as well as the half and half instead of milk.  4 stars.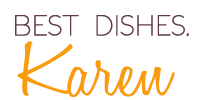 P.S.  Make sure to join in all the foodie fun on Twitter, Facebook and Pinterest!