A healthy and flavorful soup that will warm you up on a cold day.
Ideal slow cooker size: 3-5 quart
3/4 lb boneless, skinless chicken thighs or breasts (or half and half)
1 cup celery, finely diced
2 Tbsp dried onion
1 carrot, finely diced
1 Tbsp tomato paste
1 garlic clove, minced
3 1/2 cups chicken broth (or 3 cups water and 3 1/2 tsp chicken bouillon granules)
1 (14 oz) can diced tomatoes
1/2 tsp salt
1 tsp dried basil
1 bay leaf
1/4 tsp black pepper
1 cup orzo
Parmesan cheese, for serving
1. Place chicken, celery, onion, carrots, tomato paste, garlic, chicken broth, tomatoes, salt, basil, bay leaf and pepper into slow cooker.
2. Cover and cook on LOW for about 6 hours, until veggies are cooked through and flavors are blended.
3. Add in the orzo and let cook on HIGH for about 15 minutes, or until orzo is cooked through.
4. Ladle into serving bowls and top with Parmesan cheese.
Review:
My first time trying orzo. And it was pretty good.
I like it. It's like a rice or barley but in pasta form. It cooked quickly because it is so small.
I love the flavors of this soup. My husband and I both thought this soup with be awesome with Italian sausage instead of the chicken as well. I'll have to try it soon!
4 stars.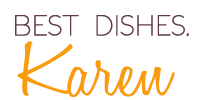 P.S. Make sure to join in all the foodie fun on Twitter, Facebook and Pinterest!