This recipe for CrockPot Cheesy Ranch Orzo is super easy with only 4 ingredients. It's ultra cheesy, creamy and almost risotto-like. Serve as a side dish with dinner or bring a big batch to your next potluck!
This orzo kind of reminds me of macaroni and cheese a little bit. It's really creamy and comforting. I was thinking after I ate it that it would be super awesome with some green chiles for an extra flavor dimension or adding bacon bits would be totally tasty and make it taste almost like carbonara. Another idea is to add some cooked broccoli in with it and have a cheesy broccoli and pasta meal. I will definitely be playing with these flavor combinations in the future!
Recipe for Slow Cooker Cheesy Ranch Orzo
Makes 4 servings
Ideal slow cooker size: 3 quart
Cooking time: 2 hours
1 cup orzo, uncooked
2 cups chicken broth
1 Tbsp Hidden Valley Ranch Dressing Mix
1 cup shredded cheddar cheese
1. Pour orzo into the bottom of the
slow cooker. Pour broth over the top of the orzo.
2. Sprinkle with the ranch dressing
mix.
3. Cover and cook on low for about 2
hours.
4. When orzo is cooked through and
there isn't any liquid left, stir in cheddar cheese gently. Serve
immediately for best results.
*For extra flavor add in bacon bits or a
can of green chiles.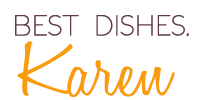 P.S. Make sure to join in all the foodie fun on Pinterest!
Visit Karen Petersen's profile on Pinterest.