This recipe for slow cooker cheddar, bacon and bean soup is sponsored by Hursts Hambeens.
As always all opinions are my own.
You must try this delicious, creamy, flavorful soup! It is perfect for a cold fall or winter day. It takes a long time to cook, so it's perfect to get started early in the morning and leave cooking all day long. When you return home from your busy day you'll have dinner pretty much ready to go!
The base of this soup is a new product from
Hurst's HamBeens
…the
Slow Cooker Bacon and Beans
. This great recipe starter is a
mix of dried Pinto and Great Northern beans and is paired with a delicious bacon flavored seasoning. Right on the back of the bag there are several recipe suggestions that help customize your meal to your family's liking. For example, you can try the Cowboy Style, Southern Style or New England Style.
I've enjoyed working with
Hurst's Hambeens
company. They are a family owned business based in Indianapolis. They are actually celebrating their 75th anniversary next month. Something that I thought was kind of neat is that they sell their beans in every state and to the US Military bases around the world! So you'll definitely be able to find these bean in your local supermarket. I love how inexpensive they are as well. The soup goes a LOOOONG way and serves a crowd on a small budget. (If you want to see the other recipe I made using their
original 15 Bean Soup, click here
)
Recipe for Slow Cooker Cheddar, Bacon and Bean Soup
Makes 10-12 servings
Ideal slow cooker size: 6 quart
Cooking time: 6-8 hours on high or 12-15 hours on low
7 cups water
1 bay leaf
1 onion, diced
1 Tbsp minced garlic
1/2 cup flour
1/2 cup butter
Salt and pepper
2 cups heavy cream (or half and half ), warmed
3 cups grated cheddar, divided
1.
Open package of beans and remove the seasoning packet. Save for later use. Pour beans into a large bowl and cover completely with water. Let soak overnight.
2. Drain all water off of the beans and then pour beans into a large slow cooker. Add in 7 cups of water, bay leaf, onions, garlic and half of the bacon. Cover and cook on LOW for 12-15 hours or on HIGH for 7-8 hours, or until beans are tender.
3. Remove the lid and stir the seasoning packet into the slow cooker. Remove the bay leaf and discard.
4. In a pan on the stove top, prepare a roux. Melt butter over low heat, add flour and cook, stirring constantly for 5-7 minutes. Slowly stir in 1 cup of hot soup (liquid only). Add another 2-3 cups of soup (liquid only) and stir until smooth. Add all back into slow cooker.
5. Pour in warmed heavy cream and then stir in 1 1/2 cups of cheddar, a little at a time.
6. Salt and pepper to taste.
7. Pour into serving bowls and top individual servings with cheddar and crumbled bacon.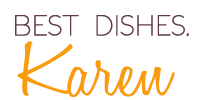 P.S. Make sure follow Hurst's Hambeens on Facebook!