These soft-baked, chewy ginger molasses cookies are filled with caramel and are a delicious treat for this Christmas. Warning…they are very addictive!
I am not usually a fan of cookies that don't contain an ounce of chocolate in them. But these cookies are so so good that I can't stop thinking about them! These are perfect for the holidays. Try them, you will not be disappointed. They are soft and gooey with the little bits of caramel inside.
Christmas is a great time to try new recipes and treats. Make sure to scroll down to see Christmas cookie recipes from some of your favorite bloggers! Baking cookies is one of my very favorite things to do. I can't wait to try some of these cookies!
Recipe for Caramel-filled Chewy
Ginger Molasses Cookies
1 1/4 tsp ground cinnamon
3/4 cup unsalted butter, at room temperature
White sugar (for rolling the cookies in)
1 (11 oz) package Kraft Caramel Bits (you probably won't use the
whole bag)
1. Preheat oven to 350F. Using a hand mixer or stand
mixer, cream the butter for about 1 minute. Add in the brown sugar and
beat until creamy and fluffy (about 2 minutes).
2. Scrape down the sides and beat in the molasses, egg and
vanilla. Scrape down the sides again and slowly add in flour, baking
soda, ginger, cinnamon, cloves, nutmeg and salt. Mix until combined.
Don't overmix!
3. For each cookie, use about 1 1/2 Tbsp of dough.
Place 4 Caramel Bits in the middle of the dough and then roll into ball
shape. Roll in the white sugar, until lightly coated. Place on a
parchment lined baking sheet.
4.
Bake at 350F for about 8-10 minutes. The edges will start turning
brown but the middle will still be puffy and soft. Let cool on the baking
sheet for 2 minutes then transfer the parchment directly onto a
wire cooling rack. Eat and enjoy! Store leftovers in an
airtight container.
Try out these other great COOKIE recipes this holiday season!
It's always a good day to bake 🙂
Helping others this holiday season (in a unique way)!
Christmas means cookies to so many of us and what better to have with cookies thank milk??? But there are too many who will go without either this year. Many of us donate to local charities this time of year. But have you ever considered donating milk to your food pantry? Milk is something that is SO needed but rarely gets donated.

Visit www.santasmilkdrive.com to donate milk! Simply type in your zip code and the donation you make will be distributed to a food bank in you own area, so you know you are doing good in your very own community!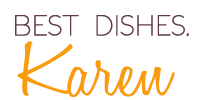 P.S. Make sure to join in all the foodie fun on Facebook!