This treat is a chocolate lovers dream. It's creamy chocolate with a little crunch similar to a Krackel Candy Bar or Nestle Crunch Candy Bar…except WAAAAY better. I make this treat all year round, not just at Christmas! With only 6 ingredients you can whip up a batch in about 10 minutes.
Happy Fun Friday! If you're new here Friday is the day I blog about whatever I feel like (not just slow cooker stuff). Most of the time I blog about yummy treats. To me, treats are the reason I try to eat healthy and exercise the rest of the time. I love a good chocolate dessert of any sort. I love thinking of, creating, eating, and rehashing desserts. This treat was known in my house growing up as "crunchy fudge." It's bascially fudge with Rice Krispies in it (not the other way around…Rice Krispy treats with chocolate in it). It is totally addicting and I won't be surprised if you need to "straighten the row" a few times. That's a trick my mom used…"I just need to make sure this row is straight" meanwhile she's eating a good eighth of the pan. Ha ha. Now that I'm a mom I use the same trick. We mothers have earned it, right?!
Recipe for Crunchy Fudge
Makes 12 servings
Prep time: 10 minutes
1/4 cup butter
1 cup semi-sweet chocolate chips (a good
brand like
Ghiradelli)
1/4 cup light corn syrup
1 tsp vanilla
1 1/2 cups powdered sugar
2 cups Rice Krispies cereal
1. In a saucepan combine the butter,
chocolate chips, corn syrup and vanilla. Cook over very low heat,
stirring constantly until smooth. Remove from heat.
2. Mix in the powdered sugar.
Add in the Rice Krispies. Stir and press into a greased square
pan.
3. Refrigerate until set and then
cut into squares and serve.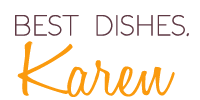 P.S. Make sure to join in all the foodie fun on Facebook!