I buy a lot of chicken.
I cook with chicken a lot.
Here's a link to all 225 slow cooker chicken recipes I've made. Whoa that's a whole lot of recipes. You may or may not want to make all 225.
When chicken is on sale I like to stock up. I love the boneless, skinless chicken thighs.
This is how I freeze it so that it's ready to go for recipes and doesn't stick together.
1. Trim off any excess fat.
2. Place some parchment paper on top of a cookie sheet
3. Place chicken on top of parchment paper. Don't let the pieces of chicken touch.
4. Stick the cookie sheet in the freezer for a few hours until chicken is frozen all the way through.
5. Place chicken into plastic freezer bags and label.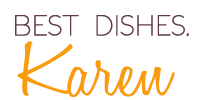 P.S. Make sure to join in all the foodie fun on Twitter, Facebook and Pinterest!