Disclosure: In exchange for an honest review, I received a Hamilton Beach Stand Mixer and Hand Mixer.
All opinions are 100% my own.
Today is a fun day! We will be giving away both the
Hamilton Beach 6 Speed Stand Mixer
and the
Hamilton Beach 6 Speed Hand Mixer
! Scroll down to the bottom of the post to enter the giveaway. I'll also be sharing with you a video tutorial of one of my very favorite kitchen tips in the whole world–how to use your stand mixer to shred chicken (or beef or pork). But before that I'd like to give a little review of what I thought of both the hand mixer and stand mixer.
Review of the Hamilton Beach 6 Speed Soft Scrape Hand Mixer:
We had a lot of fun at my house getting ready for this review. It called for me making bread, brownies, and cookies–my specialty! In the photo above my daughter is mixing up a batch of triple chocolate
Ghiradelli Brownies
. She has recently really become a fan of making brownies. I let her do it as long as I can lick one of the beaters! I really enjoyed using the
Hamilton Beach 6 Speed Soft Scrape Hand Mixer
. These are some of my thoughts in list form (easier to read and easier for me to write)
Because the beaters are "soft scrape" you don't have to constantly stop and scrape the side of the bowl. The specially coated stainless steel won't scratch your bowls or non stick pots either.
And the most important part, for me, is that the beaters are dishwasher safe. Because you know even if they weren't they'd get thrown in the dishwasher anyway! (I'm a lazy cook/cleaner, remember?)
In addition to the beaters, the mixer also came with whisk attachments (for things like whipped cream).
Both of the attachments fit nicely into a snap-on storage case–no more lost beaters.
This seemed like a very powerful hand mixer (300 watts). One thing that I noticed that even the lowest setting was very fast…make sure to have a big enough bowl for whatever you're mixing so that the batter doesn't fly all over your kitchen!
Some yummy chocolate chocolate chip-coconut-oatmeal-raisin cookies that I made! Recipe here…
Review of the Hamilton Beach 6 Speed Stand Mixer
For this review I made bread, cookies and I used the stand mixer to shred chicken. I felt that the
Hamilton Beach 6 Speed Stand Mixer
was overall a good product. Some of the things I appreciated about this product were:
Suction cups: the mixer has suction cups on the bottom to hold it in place. This comes in handy when I made bread and the mixer was kneading the dough for several minutes. The mixer stayed put and didn't travel around the countertop.
The mixer was much quieter than other mixers I've used in the past.
The height of the mixer was perfect for storage on top of the counter but underneath the cabinets.
The look and style of the mixer was sleek. I like the look of the black and stainless steel.
The mixing action is the same as a KitchenAid stand mixer…the mixing action gives complete bowl coverage.
There are 6 speeds from very slow to very fast. There was also a special "fold" setting for when you need to fold in those chocolate chips (or other things you may need to fold in…like what? I don't know).
There were three attachments included: dough hook, whisk and flat beater.One thing that gave me some pause on this product was that it didn't seem like it could suit the needs of a commercial or bulk baker/chef. The bowl is 3.5 quarts–big enough for a batch of cookies but probably not big enough for 4 loaves of bread. And that being said, the motor is 300 watts which is similar to some KitchenAid stand mixers but not the commercial grade one. If you need a stand mixer to do heavy duty stuff (knead several loaves of bread or make a triple batch of cookies) this mixer would probably not be the one to pick. If you want a stand mixer that can whip up a batch of cookies or banana bread this would be a great choice. It's significantly lower in price than the competitors–retailing for $129.99.
Hamilton Beach 6 Speed Stand Mixer
How to use your stand mixer to shred meat:
Okay so now for my special kitchen tip! I love using my stand mixer to shred chicken (or beef or pork). It makes the process to quick and easy. Here is my very favorite recipe for shredded chicken...it is so flavorful and delicious! Here is a very short video that shows what to do!
Enter to win the Hamilton Beach 6 Speed Soft Scrap Hand Mixer and 6 Speed Stand Mixer:
(U.S. residents only, please)
a Rafflecopter giveaway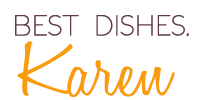 P.S. Make sure to follow me on instagram for a behind the scenes look at what I'm cooking up each day!