This easy slow cooker recipe for creamy, cheesy spinach dip is perfect for any party. It takes just minutes to make and is a crowd pleaser!
You know what I love? Those occasions where there's just a bunch of different appetizers and finger foods and you can just pick all night. This recipe is great for those parties. Make a batch and serve with a bag of tortilla chips and you're set.
You'll just need a few ingredients to make this recipe–frozen spinach, onion soup mix, parmesan cheese, sour cream, garlic and cream cheese.
I always buy the fresh spinach at Costco in those huge bags. Because I know that I won't ever finish it before it goes bag I usually put it in the freezer immediately. Then I use it in green smoothies and recipes like this. You'll need 20 ounces of frozen spinach. I measure it out
with my little scale
and then put it in a colander. I run warm water over the spinach for a minute and then blot all the excess water out of it with paper towels.
Then you'll put the spinach in the slow cooker along with all the other ingredients and give a little stir. I like to use 
the casserole crock
 for this recipe but really any slow cooker will do fine. I prefer to use a
 2 or 3 quart slow cooker for dips. 
 Turn the slow cooker on high for a couple of hours and you're set. I like to serve this dip with tortilla chips but you could also serve it with little slices of a baguette or vegetables.
Print
Easy Slow Cooker Spinach Dip
---
Cook Time:

2 hours

Total Time:

2 hours

Yield:

10-15 servings
20 oz frozen spinach
1 (8 oz) package of cream cheese
2 cups Parmesan cheese
1 package of onion soup/dip mix
1 tsp Worcestershire sauce
1 cup sour cream
4 garlic cloves, minced
---
Instructions
Place the frozen spinach in a colander. Run warm water over the spinach until it thaws. Get a few thick paper towels and thoroughly blot the water off of the spinach. Place spinach in the bottom of the slow cooker.
Cut the cream cheese into cubes and add into the slow cooker. Add in the Parmesan cheese, onion soup mix, Worcestershire, sour cream and minced garlic. Stir a bit.
Cover and cook on high for about 90 minutes to 2 hours. Stir until creamy.
Serve with tortilla chips or slices of a baguette or vegetables.
Notes
Ideal slow cooker size: 2-3 quart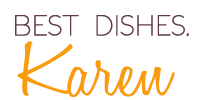 P.S.  Try these other great slow cooker appetizers as well:

From other bloggers:
Bite Size Caprese Appetizers
Fiesta Corn Avocado Salsa
Mini Spinach and Artichoke Stuffed Potatoes