An easy meatless slow cooker soup recipe (that can be dairy-free too). It has plenty of fresh spinach, cucumber and fresh basil. It's full of nutrition and flavor. (Scroll to the bottom for the recipe.)
Today my thoughts are on the things we remember and the things we forget. The reason I'm thinking of this is because I had a good portion of my family at my house this past week. My parents returned from an 18 month
LDS church mission
in France. My siblings and I haven't seen them the entire time so we gathered at my home to welcome them home and enjoy a few days together. I grew up in a family of 7 girls…no brothers. We range from the ages of 42 to 29. One set of twins. When we get together there is a LOT of talking and laughing and eating of good food. We like to talk about food, especially desserts. We are pretty much dessert snobs and like to discuss what makes a good dessert and what doesn't. It's funny because we laughed about how we could have a
very
passionate discussion for a half hour on cookies but when it comes to politics or other topics of import we wouldn't have much to say.
Within our many and varied conversations there are stories shared and inevitably the words "remember when…" will surface. Then one sister will share a story about something that happened in the past while we were growing up. So many times, I will say "I didn't remember that!" or "I forgot about that!" or "I didn't know that happened." But then a few times I'll have a certain experience etched in my mind that another sister didn't remember. My question is what makes life experiences stick into our minds and how come some people seem to remember everything? What makes that person's mind and memory so much sharper than mine? Are you one of those people?
Back to the recipe at hand…this is a creamy, vegetable based soup that is perfect for a detox because I ate way too much crap last week meatless Monday. If you'd like you can add in some chicken sausage or some maybe even crab meat. If you want to keep it meatless but would prefer some more substance you can add in cooked orzo or some rice.
CrockPot Spinach Soup with Cucumber and
Basil
Makes 4 servings
Ideal slow cooker size: 3 quart
Cooking time: 6 hours on low or 3
hours on high
8 oz fresh spinach, divided
1 cucumber, peeled and cut into large
slices
1 Tbsp olive oil
1 Tbsp chopped dehydrated onion or 1/4 cup
minced fresh onion
3/4 tsp salt
1/2 tsp pepper
2 garlic cloves
1/2 cup heavy cream (optional)
1/4 cup chopped fresh basil
1. Place half of the spinach (4 oz)
in the slow cooker. Add in the cucumber, olive oil, onion, salt, pepper,
garlic and broth.
2. Cover and cook on LOW for 6 hours
or on HIGH for 3 hours.
3. Pour contents of slow cooker into
a blender (depending of the size of the blender you may need to do this part in
batches). Add in the rest of the spinach (4 oz). Blend until smooth
and creamy.
4. Pour blender contents back into
the slow cooker. Warm the heavy cream and pour it in the slow cooker (if
you want the soup dairy free you can eliminate the cream and eat as is).
5. Add in chopped basil and pour
into serving bowls and enjoy. Salt and pepper to taste, if needed.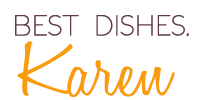 P.S. Do you like this meatless recipe? Try these others (click on the picture to get the recipe):