This recipe for Hummus Orzo with Chicken and Peas is a one-pot dinner
that is creamy, quick, easy and flavorful.
Before I share this amazing recipe with you today I'd like to talk about cleaning. Cleaning my house is definitely not my favorite thing to do. As most of you that have children know, it seems like the minute I clean something in my house it is immediately dirty again. ARGH! Why clean it in the first place?
Who's the clean person at your house? My husband is definitely the one who cares more about a clean house. He gets frustrated with closets that become so full and unorganized that things fall out when you try to take something out. He's also the "clean as you go" type of person. I'm more of the "wait until it gets so messy until I absolutely can't stand it anymore and then go on a crazy cleaning spree" type of person. Remember this instagram post??? That's totally me! I was photographing 7 recipes that day…so why clean as I go when I'm going to keep messing up the kitchen? Ha ha! I emailed that picture to my husband and I told him I was glad that he or his mother were not home that day!! Sometimes when I'm cleaning bathrooms or picking up around the house I get really angry. It just makes me annoyed and frustrated. BUT I have to say when I carry my ipod around with me and listen to some interesting podcast it makes the times go by faster and I sort of enjoy the job. Sort of. What are your favorite tricks/tips to keeping a clean house? Any podcasts that you would recommend?
So onto bigger and better things than that unhappy topic…this recipe is awesome. You guys! It's so super duper easy and it is a one-pot dinner. I knew you could make rice in the slow cooker so I figured I'd try it out with other grains. So first off, I decided to try and make orzo which is just pasta that's kind of rice-shaped. I didn't cook it before hand or anything. I added it into the crockpot with some chicken and broth and a couple of spices. I let it cook on low for about 3 hours until is started to get really tender and almost creamy. It sort of reminded me of risotto. Then I gently stirred in hummus and some peas (totally optional). The results were fantastic. I couldn't believe how creamy and flavorful so few ingredients could be. The hummus I used was sundried tomato flavored and my favorite brand–Sabra. I bought a huge container of it at Costco when I was shopping while hungry (that's exactly what you're not supposed to do…hello $100 bill when I was going in for 2 things).
Anyway, I'm so so so happy about the results of this recipe! It's so fun to experiment with stuff in my kitchen but it's the most fun when things actually turn out and you get something like this. The peas and chicken are totally optional but I threw them in there so it'd be more of an all-in-one dinner type of recipe. I hope you love it as much as me. If you like hummus, you will! I promise 🙂
CrockPot Recipe for Hummus Orzo with Chicken and Peas
Makes 4 servings
Ideal slow cooker size: 3 quart
Cooking time: 2 1/2-4 hours on low
4 small boneless, skinless chicken thighs or breast halves
1/2 tsp salt
1/4 tsp pepper
1/2 tsp garlic powder
1 cup orzo (uncooked)
2 cups chicken broth
1/2 cup Sabra Sun Dried Tomato Hummus
1 cup frozen peas, optional


1. Place chicken in the bottom of the slow cooker, in one layer if possible. Sprinkle the chicken with the salt, pepper and garlic powder.
2. Pour orzo onto the top of the chicken evenly. Pour chicken broth over the top of the orzo so that it is completely submerged in liquid.
3. Cover and cook on LOW for about 2 1/2-4 hours or until chicken is cooked through and orzo is tender (I used my 3 quart slow cooker and it cooked in about 2 hours 45 minutes…if you use a larger slow cooker it may even cook faster).
4. Remove lid and use a fork to remove the chicken onto a cutting board. Shred or cut into bite size pieces. Add the chicken back into the slow cooker.
5. Place the peas and a cup of water into a glass bowl and cook in the microwave for about 1 1/2 minutes. Drain off all water and add the peas into the slow cooker.
6. Add the hummus into the slow cooker. Gently fold in the chicken, peas and hummus. The orzo will be really soft and tender so don't mix…just gently stir until the pasta is coated with hummus. Scoop into serving bowls and enjoy!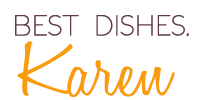 P.S. If you like this recipe try these other creamy delights! Click on the picture to get to the recipe: