Do you have boys? I have one boy. He's 5 and it's crazy how much I love him. He is incredibly charming and very cute. He looks a lot like my husband and has a lot of his personality too. Which is probably why I'm so drawn to him. We just click, you know? He is my little buddy. He is not perfect and am the first to admit that but I love him anyway and look past his temper and his inability to clean up after himself (most of the time). The problem is this, he is 5 and when him and his friends come over and play in his room it's like a big, sweaty locker room. These kids are 5 and 6. Really? Am I seriously already dealing with stinky B.O. boys? Why are boys so much grosser than girls? My daughter doesn't have this issue and she's 8. When I go in her room, it doesn't smell like roses but it's not a stink bomb either. I grew up with 6 sisters…no brothers. So I'm just not familiar with this boy grossness. Let's not even start on the bathroom!
Anyhoo…from stinky boys to something delicious! Sometimes when I'm making up recipes I'm expecting one result and I get another. Most of the time that is a bad thing and it's back to the drawing board. Not with this recipe though! I was trying for a Bourbon Street Chicken taste but instead I got this island-y, sweet, saucy, caramel chicken. Everyone in my family really loved this chicken and we wished that we had made more. We served our chicken over some rice because it had a nice sticky Asian-esque sauce. I also roasted some broccoli with olive oil and kosher salt and it paired very nicely.
CrockPot Caramel Chicken
Makes 4 servings
Ideal slow cooker size: 3 quart
Cooking time: 4-6 hours
1 1/2 lbs boneless, skinless chicken thighs, trimmed of fat and cut into bite-size pieces
1 tsp garlic powder
1/4 cup pineapple juice
1/3 cup brown sugar
2 Tbsp ketchup
1 Tbsp apple cider vinegar
1/3 cup soy sauce
1/8 tsp ground red pepper
1. Place chicken in the bottom of the slow cooker.
2. In a medium bowl, whisk together the garlic powder, pineapple juice, brown sugar, ketchup, apple cider vinegar, soy sauce, ground red pepper and tapioca. until smooth.
3. Pour sauce over the top of the chicken.
4. Cover and cook on LOW for about 3-5 hours. Stir a bit and cover all the chicken with sauce. Serve chicken and sauce over rice.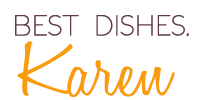 P.S. Like this chicken? Try these other slow cooker recipes as well!