Welcome back to my second ever
Fun Friday
post! Hooray! Are we having fun yet? I know I am because I have these chocolate oatmeal coconut cookies in my belly. Baking cookies is seriously one of my very favorite things to do ever in the whole world (
just check my instagram feed and you'll see
). I love thinking about cookies, making them, eating the dough, eating them some more when they're baked, talking about them after the fact and why they turned out so well (or not so well) and then instagramming them. It's kind of a passion of mine.
This particular recipe is a spin-off of a favorite growing up from my Uncle Gary (who is an amazing cook). I added some more cocoa and a little more salt (I also nixed the walnuts–not my thang). I really like salted sweets lately…you know like peanut butter and chocolate or pretzels M&Ms or saltine crackers with Nutella spread on top. I love the contrast of the flavors. Now you're probably wondering why I chose to keep the raisins in these cookies. And I actually have to tell you the raisins make these cookies better…not worse. I know, right?! Crazy town. To me raisins usually ruin recipes about 95% of the time. These cookies fall into the 5%. Because there is so much chocolate in these cookies the raisins kind of take on the flavor of Raisinets…which are a great candy (another odd case in that 5%). If you like chocolate-y, chewy cookies with lots of texture these are the cookies for you!
Recipe for Chocolate-Chocolate
Chip-Oatmeal-Coconut-Raisin Cookies
Makes about 48 cookies
1 cup unsalted butter (2 sticks), room
temperature
1 cup white sugar
1 cup brown sugar
2 tsp real vanilla extract
1 tsp salt
2 eggs
1 tsp baking soda
1/2 cup cocoa powder
2 cups old fashioned oats
2 1/2 cups flour
1 cup sweetened shredded coconut
1/2 cup raisins
2 cups chocolate chips
1. Preheat your oven to 325° F.
2. In your stand mixer cream the
butter with sugars, vanilla and salt. Let it cream for about 3 minutes.
It will change consistency and color.
3. Add in eggs and baking soda. Mix
well.
4. Stir in cocoa powder, oats, and
flour.
5. Add in chocolate chips, coconut
and raisins. Stir until combined, but do not overmix.
6. Use 1 to 2 Tbsp of dough per
cookie and form dough into balls. Place on a parchment lined cookie
sheet. Bake in the preheated oven for about 14 minutes. The cookies
won't look done but they are! Remove from the oven and let sit on the
cookie sheet for about 2 minutes. Gently pull the parchment paper off the
cookie sheet onto the counter (with the cookies still on it). Let the
cookies cool a bit and then enjoy! Store leftovers in an airtight
container. They will stay good for about 2 days or for 1 month in the freezer.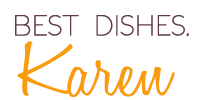 P.S. Love dessert? Check out these others (click on the picture to get the recipe):