This recipe for Slow Cooker Warm Cheesy Bacon Bean Dip is sponsored by Hurst's Beans, a family owned company, that I fully support. As always, all opinions are my own.
Are you ready for some football??? I know my husband is. He's like a kid on Christmas morning this time of year. He loves it and I love him being happy. If you're not into football what about football food?? YUM! Chips and dip are the best party food! Easy to make and totally delicious to eat. This particular dip is made with beans (think refried beans consistency), cream cheese, cheddar and BACON! Super smoky and flavorful and creamy. The crowd is going to love it.
I started out by cooking the dried beans in the slow cooker. I used
Hurst's HamBeens Slow Cooker Bacon and Beans
. It's a mixture of pinto beans and great northern beans. They have a little seasoning packet in the packaging that you're going to want to keep. This little seasoning packet is
the key to the flavoring
in this dip. One thing I appreciate, too, is that these beans don't have to be to soaked overnight! Which is always good for me since I pretty much always forget to soak dried beans. After the beans are cooked for serveral hours in the crockpot you blend them up with the rest of the ingredients and mix in some crumbled bacon. I like this dip with tortilla chips and crackers. I think this dip is best served warm–so I like to keep this dip in the slow cooker and turn it to the warm setting.
The base of this bacon dip is a fairly new product from Hurst's HamBeens…the Slow Cooker Bacon and Beans. This recipe starter is typically used to make big pot of beans (which are also good for serving a crowd). Right on the back of the bag there are several recipe suggestions that help customize your beans to your family's liking. For example, you can try the Cowboy Style, Southern Style or New England Style.
Something that I like about Hurst's Beans is that they sell their beans in every state and to the US Military bases around the world! So you'll definitely be able to find these bean in your local supermarket. I love how inexpensive they are as well. The beans/soup/chili/dips goes a LOOOONG way and serves a crowd on a small budget.
Recipe for Slow Cooker Warm Cheesy Bacon
Bean Dip
Ideal slow cooker size: 5-6 quart
Cooking time: 4-5 hours on high or
8-9 hours on low
Makes 30 servings
1 Tbsp salt
8 cups water
1 (8 oz) package cream cheese
1 cup shredded cheddar cheese (medium or sharp
is best)
1 cup crumbled bacon
1. Sort through the dried beans.
Check for any unwanted debris and discard. Rinse beans thoroughly
with water.
2. Add beans to the slow cooker.
Keep the seasoning packet for later. Add salt and water to the slow cooker.
3. Cover and cook on LOW for 8-9
hours or on HIGH to 4-5 hours, or until beans are soft.
4. Drain the liquid from the beans.
Reserve
the liquid
for later use.
5. Add 2 cups of reserved liquid to
the bottom of a blender. Add the beans to the blender. Blend until
a very smooth consistency. (You may have to do this in batches).
6. Add the beans back into the slow
cooker. They should resemble refried beans. Stir in the seasoning
packet.
7. Cut the cream cheese into cubes
and stir into the beans. The cream cheese should melt and incorporate
well. Stir in the cheddar. Stir in 3/4 cup of bacon (reserve 1/4
cup for later). If you feel the dip needs more liquid you can stir more
in.
8. Sprinkle the rest of the bacon on
top of the dip and serve with tortilla chips, crackers or fresh vegetables.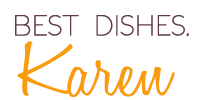 P.S. Make sure to join in all the foodie fun on Pinterest!
Visit Karen Petersen's profile on Pinterest.