Besides my slow cookers, the appliance in my house that is used the most is my blender! Here are 5 things you probably didn't know that you could do with your blender. Am I missing anything?
Okay so I'm a little addicted to doing video lately. If you're sick of it scroll down and you can see all of the tips in writing. But if you can't get enough of me and my kitchen (ha) view this video that demonstrates all 5 ways that you could be using your Blendtec blender! If you're considering purchasing a Blendtec (totally recommend, by the way) then
I would use this link.
It is a link to blenders that are refurbished–so a lot cheaper but still are awesome! And remember your Blendtec comes with an awesome 8 year warranty!
Tip #1: Use your Blendtec to grind wheat or other grains into flour: Grind your whole grains and turn them into healthy whole grain flour. For wheat, add 2 cups into your Blendtec and set on speed 9. Blend for 50 seconds. It will produce 2 2/3 cup flour. Don't stop at wheat though! You can grind brown rice, dried chickpeas, lentils, legumes, quinoa etc! Just FYI when grinding hard grains, it may pit the jar interior resulting in a fogged appearance (I don't worry about this because I love this tip too much to worry about a foggy jar).
Tip #2: Make soup in your Blendtec!
The blades of the Blendtec go so fast on the soup setting that it actually heats your soup. To get the recipe I mentioned in the video for
Roasted Red Pepper Soup go here.
Tip #3: Make ice cream in seconds in your Blendtec!
This berry ice cream was so easy to make and tasted awesome. The recipe is simple. Just add 1 1/4 cups half and half into the blender. Add in 3 Tbsp sugar and then 2 1/2 cups frozen mixed berries. Select the ice cream cycle. After the cycle is complete you may need to pulse 3-5 times until the ice cream is smooth. Serve immediately!
Tip #4: Make powdered sugar in your Blendtec.
There have been times when I'm in the middle of a recipe and it calls for powdered sugar and I go to my cupboard and realize I'm out! That is the worst. Not anymore! Just make powdered sugar our of regular granulated sugar in your Blendtec. Place the blender on its base and secure the lid and remove the vented gripper lid insert. Select "batters", quickly add sugar and replace the vented gripper lid to prevent powdered sugar from blowing through the vent. Once the cycle is complete, use the sugar as desired.
Tip #5: Make ground meats in your Blendtec.
Use the pulsing option to turn chicken breasts into ground chicken or pork into ground pork. It's amazing! I even pulsed a chuck roast once to make ground beef. One thing that we really love is chicken breakfast sausage. You really should try it! You'll love it.
Chicken Sausage Recipe
Makes 4 servings
1 lb boneless skinless chicken breasts, cut into cubes
1 Tbsp maple syrup
1 tsp kosher salt
1/2 tsp ground black pepper
1/4 tsp ground sage
1/4 tsp dried thyme
1/8 tsp ground nutmeg
1/8 tsp ground cayenne pepper
1/8 tsp crushed red pepper flakes
1. Add half of the chicken, the seasonings and the rest of the chicken to the jar and secure the lid.
2. Press pulse 8-12 times until ground to desired consistency. Do not overblend.
3. Cook in a heated skillet until browned.
Recipe is adapted from Fresh Blends (the cookbook you get when you buy a Blendtec).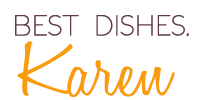 As you can tell, I really love my Blendtec Blender. I am an affiliate for Blendtec and will earn a percentage of any sales that I make. Thank you for supporting this blog by supporting its affiliates and sponsors!