The slow cooker can really be a meat-centric appliance but there are plenty of vegetarian slow cooker recipes as well! I've compiled some of my favorite vegetarian crockpot recipes from my blog and from other sites around the web.
Feel free to share this post with all your vegetarian friends!
Pin this post
1. Slow Cooker Mexican Rice and Beans with Avocados
2. Crockpot Coconut Rice and Beans
3. Slow Cooker Avocado, Black Bean and Salsa Verde Quinoa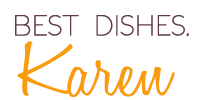 P.S. To get all my recipes delivered to your email box subscribe for free today!