Hi guys,
Just wanted to let you know of a new little feature in the sidebar of my blog. If you look to the right and scroll down it looks like this:
As you can see, it has the latest recipes that I've posted on Today's Mama. I usually do my non-slow cooker recipes over there and then of course the crock-pot favorites right here on 365 Days of Slow Cooking. You won't want to miss the absolutely amazing recipes over there…so head on over and check it out!
You can find all my posts on Today's Mama here.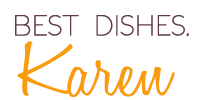 P.S. Have you entered the awesome giveaway yet?