Hi All!
I'm so excited to introduce a new video series that will appear on my blog…
Recipes that are SO easy a kid could make it!
My 9-year-old daughter, Reagan, is super pumped to star in the very first video! I think she's got some talent 🙂 Keep in mind I didn't coach her really at all on what to say…we pretty much did this video in one take after school one day.
You can make this particular recipe with quinoa or with orzo…it's up to you!
Before you watch the video please
SUBSCRIBE to my youtube channel
. I have like 7 subscribers right now 🙂 I want to mix it up a little bit and start doing more videos on my blog!
Get the full recipe and instructions to the recipe here!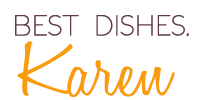 P.S. Have you got your copy of "Slow Cooking Fast" yet? Buy it here!
Check out this awesome review!!!!