It is the week of Thanksgiving (my favorite holiday!) and while you're probably worrying about other things right now besides leftover turkey, you'll want to save this page for the day after Thanksgiving when you have loads of leftover turkey to use up. And since you will have spent so much time in the kitchen on the days leading up to Turkey Day, you'll want SUPER quick and easy recipes that won't require you to do much besides turn a switch to low.

1. Slow Cooker Creamy Wild Rice and Turkey Soup: Creamy and comforting
2. Healthy Chicken Turkey and Barley Soup: This is one of my favorite soups of all time. Just use cooked turkey in the place of chicken in this recipe!

3. Slow Cooker Turkey Tetrazzini: This is the good old fashioned chicken tetrazzini that you grew up with without all the work! Just substitute cooked turkey for the chicken. All the ingredients (including uncooked noodles) go into your slow cooker and then you turn and walk away…it's that easy.

4. Slow Cooker Hummus Orzo: This calls for chicken but just substitute 1-2 cups of chopped, cooked turkey and you'll be all set. I love this creamy, risotto-like dish!

5. Slow Cooker Turkey Pot Pie Soup: Everybody loves this soup! It's totally creamy and delicious and I love the big chunks of cooked turkey.

6. Creamy Turkey and Quinoa Soup: This soup is filled with turkey, quinoa, veggies and topped with bacon crumbles. It's adult and kid approved in my house. This soup is perfect for when you have turkey leftovers.

7. BBQ Turkey Spaghetti Bake: This recipe calls for cooked chicken but it's super easy to swap that out with cooked cubed turkey. Every member of my family loved this cheesy casserole!

8. Turkey Burrito Bowls: All the ingredients from delicious burritos in a bowl! Yum! Use turkey in the place of cooked chicken.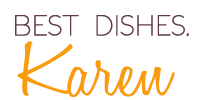 P.S. Make sure to join in all the foodie fun on Facebook!