I once heard a girl talking about her favorite recipe that involved chicken and sausage. I immediately thought "I need to make something like that in the crockpot!" So that's what I did. I love how the sausage flavors everything perfectly. The red pepper adds in some extra dimension and flavor and color. The chicken is super tender. You can serve this over rice or potatoes or simply on it's own! It's all yummy.
This is an updated recipe/photo from July 2011
Slow Cooker Sausage, Chicken and Peppers
Makes 4 servings
Ideal slow cooker size: 3 quart
Cooking time: 4-6 hours
1 red bell pepper, cut into strips
1/2 lb ground sausage, browned and drained
1 lb boneless, skinless chicken thighs,
trimmed of fat and cut each thigh into 4 pieces
1 small onion, diced
4 garlic cloves, minced
1 Tbsp canola oil
1 tsp dried basil
1 tsp paprika
1/2 tsp dried thyme
1 1/2 tsp salt
1. Combine onion, garlic, tomato
paste, canola oil, basil, paprika and thyme in small microwave safe bowl.
Microwave for 4 or 5 minutes. Stir every minute, until onions are soft.
Transfer to slow cooker.
2. Stir chicken, sausage, salt and
red bell pepper into the slow cooker.
3. Cover and cook on LOW 4-6
hours.
4. Serve over rice, if desired.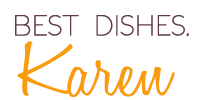 P.S. Have you ordered my really cheap but totally helpful
e-book
yet??? Only $1.99!