Slow Cooker Lentil and Barley Pilaf…An easy-to-make chewy and flavorful side dish full of fiber.
I like lentils. I like them a lot, and I feel like I've neglected them on my blog for too long. Starting now you'll see more lentil recipes on this blog, people! They don't need to be soaked overnight so they are perfect for harebrained people like me that forget to soak the night before!
I wanted to pair lentils with barley for a chewy side dish that's full of flavor and fiber. Let' be honest, we all probably could use a little more fiber in our diets. I also made this in less than 5 minutes as I was in a hurry to get out the door for church. It cooked in about 3 1/2 hours on low and was a nice little side dish that I enjoyed and my husband loved! He loves stuff like this. He says that it makes him feel healthy. He wants me to make a large batch for him and pack it in little containers for his lunches at work. Will do–since like I said it takes about 5 minutes flat to make!!!

Slow Cooker Recipe for Lentil and Barley Pilaf
Makes 4 servings
Cooking time: 3-5 hours
Ideal slow cooker size: 3 quart
1/3 cup pearl barley (not the quick cooking kind…I find mine in the bulk section at the grocery store)
1/3 cup green lentils
1 Tbsp butter
1 Tbsp dried onion flakes
1/2 tsp minced garlic
2 tsp chicken bouillon (I like to use 1 tsp of Shirley J bouillon…you can also use their vegetarian chicken bouillon if you prefer)
1 bay leaf
1/8 tsp black pepper
1/8 tsp salt
1 1/3 cup water
1. Add all ingredients to your slow cooker. Give a quick stir.
2. Cover and cook on LOW for 3-5 hours.
3. Stir a bit and serve. (I didn't need any more salt and pepper but you may need to season to taste a bit at the end)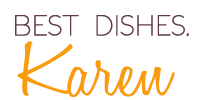 P.S. Want some other recipe ideas using lentils? Try these:


Spicy Sausage and Lentil Soup