This recipe for Slow Cooker Chicken Enchilada Soup is super easy to get cooking in the morning and will warm you up on those cold winter days! It's ultra creamy without the addition of dairy, thanks to the addition of a can of refried beans. Make it spicy with a can of hot enchilada sauce or for those weaklings (like me) just use mild. My favorite part is to top with cilantro and avocado for some added flavor.

Makes 6 servings
Ideal slow cooker size: 5 quart
Cooking time: 6 hours
1 cup chicken broth
1 (15 oz) can black beans, rinsed and drained
1 (15 oz) can corn, drained
1 (4 oz) can diced green chiles
1 (10 oz) can enchilada sauce (mild, medium or hot…whatever you like)
1 (14.5 oz) can petite diced tomatoes
1 tsp cumin
1 lb boneless, skinless chicken thighs or breasts (frozen is fine, just cook 2 hours longer)
1 (16 oz) can refried beans
Salt and pepper
Optional toppings: sour cream, chopped cilantro, sliced avocado, grated cheddar, tortilla or corn chips
1. Add broth, beans, corn, chiles, enchilada sauce, tomatoes, cumin, and chicken to the slow cooker. Give a quick stir.
2. Cover and cook on LOW for about 6 hours, or until chicken is cooked and tender.
3. Remove the chicken and shred. Stir refried beans into the hot soup until creamy. Add chicken back into the slow cooker.
4. Salt and pepper to taste.
5. Ladle into servings bowls and top with individual toppings.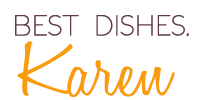 P.S. Like slow cooker soups? Check out all my crockpot soup recipes here: