This green minestrone soup is chock full of goodness. It includes kale, zucchini, orzo, ditalini, lentils, mushrooms and flavorful pesto. Every single bite of this soup you eat will leave you saying "mmmmmm!" This is seriously my new favorite soup ever! Try it, I think you'll agree.
Slow Cooker Pesto Minestrone Soup that will knock your socks off!

Well, some days you've got and it and some days you don't. Today, I got it, baby! This soup left me doing a little happy dance around my kitchen. My husband was working from home and I ladled a bowl of soup for him. He was super thrilled and kept commenting on how awesome this soup was. "Can I take the rest to work tomorrow for lunch?"
The reason that this soup is so good is that it has an awesome broth (thanks to the delicious pesto) and it is completely packed with delicious textures. I started out with sauteed onions, to ramp up the flavor. Then I added in some cubes of pork loin. If you want, you could definitely use another type of meat or make it meatless. I then added in green lentils, mushrooms, pesto and broth. After the soup slow cooked for a few hours, I added in kale and zucchini and pasta.
Ladle the soup into a bowl and top with Parmesan cheese. It is perfect for a cool day but it's not heavy. In fact, this soup is pretty healthy! I am definitely going to be making this soup again soon. I would be proud to serve this soup to company or bring to a neighbor.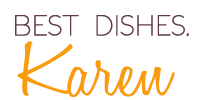 P.S. Have you got my new cookbook yet???