These no bake peanut butter rice krispy treats are soft and chewy and full of peanut buttery goodness. I've made them 3 times in the last week–for reals! They are a crowd pleaser and will disappear in no time.
Happy 4th of July and Fun Friday!
I hope you're out doing something super fun today and eating really good food. Maybe these bars could even be part of your picnic?? If you love peanut butter you will love these treats. They are sticky and chewy and can be made in about 10 minutes! Don't you just love easy dessert recipes? I added Reese's Pieces to these bars to make them even better but in the past I've also used M&Ms too. Both ways are good. Don't force me to tell you which one I like better! I love them both. And another cool trick I learned…when you're storing these bars in an airtight container put a piece of bread in with it. The bread keeps the treats ultra soft. I had to make these a day early for a family reunion last week and they were so soft because of the bread. I even had someone ask me how I kept them so soft!
Reese's Pieces Rice Krispy Peanut Butter
Squares Recipe
Makes 15 servings
Prep time: 10 minutes
1 cup light corn syrup
1 cup white sugar
1 cup peanut butter
4 cups rice krispies
1 cup Reese's Pieces (or m&ms…I like the minis)
1. In a pot over medium high heat
combine the corn syrup and white sugar. Whisk together and keep stirring
until the sugars come to a boil.
2. Once the mixture comes to a boil,
remove from the heat and stir in the peanut butter until it is melted and well
incorporated.
3. Fold in the rice krispies until
they are thoroughly coated. Fold in the Reese's Pieces or m&ms.
They will get a little melted and cracked but that's okay…it makes them
taste even better.
4. Spray a 9×13 dish with non stick
cooking spray. Pour the rice krispy mixture into the pan and press down
until it's even.
5. Let the bars cool. When
ready to serve cut into bars. If you want to store these put them in an
airtight container and put in a piece of bread or a roll in with it. The
bread keeps the bars really soft.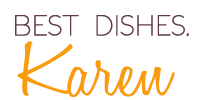 P.S. Make sure to check out all the Fun Friday posts I've done!