A little sandwich that is packed with delicious flavors!
Makes 6 servings
Ideal slow cooker size: 5-6 quart
*This is a good recipe to make if you're going to be gone all day
1 1/3 cup dried pinto beans, rinsed and sorted (these will work best if they are soaked overnight)
2 lbs pork roast, trimmed of excess fat (butt, shoulder, Boston cuts work best)
6 cups water
3 tsp Shirley J chicken bouillon or 6 tsp regular chicken bouillon
1 onion, quartered
1 cup salsa, or your choice
1 tsp cumin
1 tsp chili powder
Garlic powder
Red wine vinegar
Salt and pepper
Rolls or small buns
Slice avocados
Banana peppers
1. Place beans in bottom of slow cooker. Pour in water. Place pork on top.
2. Add in the chicken bouillon and onion.
3. Cover and cook on LOW for 8-10 hours. Beans should be very tender and pork should fall apart.
4. Remove roast and shred.
5. Drain water but save about 1 cup of it. Discard the onion. Place beans in a large bowl.
6. Place roast back into the slow cooker. Stir in the salsa, cumin and chili powder. Taste and then add salt and pepper to taste.
7. Using a potato masher, mash the beans adding in a little saved liquid, as needed. Add in garlic powder and red wine vinegar to taste as well as plenty of salt and pepper.
8. Spread some of the beans on a roll/bun. Top with some pork and then top with avocado slices and banana peppers. Enjoy!!
Recipe adapted from Six Sisters Stuff
Review:
The great thing about this recipe is that the beans and the pork take exactly the same amount of time to cook so you can throw them in together and have great results. The thing is, you must choose the right cut of pork. Don't even think about pork loin for this recipe. Just won't work! I didn't soak my beans overnight but I wish I would have. They just turn out much better. So try to remember to soak! These pork and beans would also be really great on a tortilla if you don't have any buns on hand. I added the banana peppers last minute to give it a little flavor boost and crunchiness. It was the perfect choice. You can also melt cheese on top, if you'd like. 4 stars.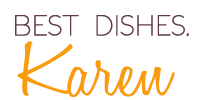 P.S. Make sure to join in all the foodie fun on Twitter, Facebook and Pinterest!