Makes 6 servings
Ideal slow cooker size: 3 quart


Recipe for Slow Cooker Vegetarian Quinoa Mexican Bowls with Creamy Avocado Sauce
1 cup quinoa
1 3/4 cups water + 1 tsp Shirley J Vegetarian Chicken Bouillon (or 1 3/4 cups vegetable broth)
1/2 cup diced onion
1 (4 oz) can diced green chiles
1/2 cup diced red bell pepper
2 tsp minced garlic
1 (14 oz) can black beans, rinsed and drained
Salt and pepper


Avocado Sauce
2 ripe avocados, halved and scooped out
1 tsp garlic
2 tsp olive oil
1 tsp fresh lime juice
1 Tbsp minced cilantro
2 small roma tomatoes, diced
1/4 tsp to about 1/2 tsp salt (start with 1/4 and if it needs more add more)
1/4 tsp black pepper


1. Combine the water, bouillon, quinoa, onion, green chiles, red bell pepper, garlic and black beans in the slow cooker.
2. Cover and cook on HIGH for 2 hours (cook times vary with each slow cooker but mine cooked in exactly 2 hours). Remove lid and fluff with a fork. Salt and pepper to taste.
3. In a bowl, combine the avocado, garlic, oil, lime juice and cilantro. Using a fork or potato masher, mash the avocado mixture until creamy. Add in tomatoes and salt and pepper.
4. Spoon quinoa into bowls and top with a generous portion of the avocados. Enjoy!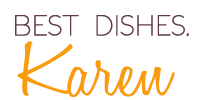 Mashed Cauliflower

White Bean and Garlic Hummus

Garlic, Parmesan and Rosemary Mashed Potatoes

Greek Lemon and Rice Soup