A most delicious, savory and slightly sweet, Asian chicken dinner that anyone can make in minutes.
Makes 4-6 servings
Ideal slow cooker size: 3-5 quart
1 1/2 lbs boneless skinless chicken thighs (trimmed of excess fat) and boneless skinless chicken breasts (I like to use half of each and I used frozen)
1/2 tsp black pepper
1 heaping Tbsp of flour
2 Tbsp honey
1/4 cup soy sauce (low sodium would be best if you don't want it too salty)
2 Tbsp tomato paste
3 Tbsp seasoned rice vinegar
2 garlic cloves, minced
2 Tbsp water
1 tsp sesame oil
1 tsp onion powder
1 tsp Tabasco sauce (or more if you like it with heat)
Toasted sesame seeds, for garnish
2. Place chicken in bottom of slow cooker. Sprinkle with the flour and the black pepper.
3. In a small bowl, stir together the honey, soy sauce, tomato paste, vinegar, garlic, water, sesame oil, onion powder, Tabasco, tapioca. When it's smooth, pour over the top of the chicken.
4. Cover and cook on LOW for 4-6 hours. If it's frozen chicken, it may take 1-2 hours longer.
5. Remove chicken from crock and shred (I use my standing mixer to shred chicken, it works awesome!)
6. Place chicken back in slow cooker and stir together with all the sauce.
7. Scoop onto serving dishes (I served mine with barley but rice would be awesome too) and sprinkle sesame seeds on top of each serving.
Review:
Amazing results for totally a minimum effort. I threw my chicken in frozen and stirred up the sauce and boom I was done! I love the slightly sweet but totally savory taste of the chicken. I loved the little crunchiness of the sesame seeds on top. I loved that the tapioca and flour thickened up the sauce perfectly. Basically, I loved this recipe. Try it, you'll love it too! 5 stars.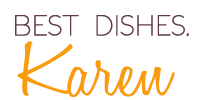 P.S. Make sure to join in all the foodie fun on Twitter, Facebook and Pinterest!