As always all opinions are 100% my own.
After eating this chili my husband commented to me, "This is so good! Anything you make with those Hambeens turns out good." Well, he's right. I've made this chili and then the Cheddar, Bacon and Bean Soup and before that I made the Smokey 15 Bean Soup with Sausage. These soups are just so hearty and filling and not to mention they serve a crowd (or provide leftovers for lunch the next day). I also appreciate the fact that I'm cooking dried beans from scratch instead of opening a can. Not that there's anything wrong with opening a can…just sometimes it really feels good to start from scratch.
With this particular recipe, I started with
Hurst's Hambeens Slow Cooker Chili
(a brand new product in fall 2013. They are not
in all stores yet. The three chains that currently have Hurst's Slow Cooker items are Food Lion, Hannaford, and Marsh Supermarkets. More to come in the months ahead!
). I wanted to really "meat up" this chili by cooking a pork roast with the beans. The right cut of pork is perfect to cook with dried beans because they pretty much take the same exact amount of time to cook. I also thought I would give it a little something extra by adding in tomatillos for a little Mexican twist. This recipe makes a LOT and my whole family was able to eat it plus we were able to take some to our new neighbors that were moving in that exact day. My neighbor brought my crockpot back this morning and said that the soup was sooo good!
New product! Arriving in stores soon!
I have so enjoyed working with Hurst's Hambeens this fall. They are a family company that is celebrating their 75th anniversary this month! If you'd like to learn more about Hurst's Hambeens products make sure to visit their
webpage
and to like them on
Facebook!
One thing that is really great about this new Slow Cooker Chili product is that it is gluten free and has low sodium. That's another good thing about making food from scratch…you're really able to control what does and what does not go into what you make and eat. In addition you don't HAVE to soak the beans. Just throw them straight in the crock pot!
Recipe for Slow Cooker Four Bean Pork Tomatillo Chili
Makes 10 servings
Ideal slow cooker size: 6 quart
Cooking time: 8 hours on HIGH or 12 hours on LOW
1 (15.5 oz) bag of Hurst's Hambeens Slow Cooker Chili with seasoning packet
7 cups water
1 medium onion, diced
1 green pepper, diced
3 garlic cloves, minced
1 (2 lb) boneless pork shoulder roast, well trimmed
1 (12 oz) can of tomatillos, drained of liquid OR 6 fresh tomatillos, husked and rinsed
2 Tbsp tomato paste
1 tsp salt
Salt and pepper, to taste
1. Rinse and sort through the dry beans. Check for any unwanted debris and discard.
2. Add beans to slow cooker and pour in the water. Add in half of the seasoning packet that comes with the beans.
3. Add in the onion, green pepper and garlic. Place the trimmed pork roast on top (it should be mostly immersed in liquid).
4. Cover and cook on HIGH for 6-8 hours or on LOW for 10-12, or until beans are tender. (All slow cookers cook differently).
5. When beans are tender and the pork is easily shreddable you know that you're chili is almost done! Remove pork and shred.* Place meat back into the slow cooker.
6. Blend tomatillos in a blender until smooth. Add into the slow cooker. Add the other half of the seasoning packet, tomato paste and salt into the slow cooker. Salt and pepper to taste. Serve and enjoy!
Karen's Kitchen Tip: Use your stand
mixer to shred meat
You can use two forks to shred
chicken, beef or pork or you can do it the easy way and use your stand
mixer. After the meat is cooked through
and fork tender, carefully remove it from the slow cooker with tongs and place
in the bowl of your stand mixer fitted with the paddle attachment. Turn the mixer to low for about 45
seconds. It should be shredded
perfectly. Use the meat right away or
store in plastic freezer bags for meals at a later time.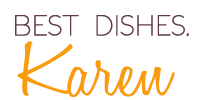 P.S. Make sure to check out all my bean recipes here: