I'm a fan of all things pita lately. I've found this really great brand of pita bread at Costco and am loving it!! I whipped up these delicious chicken gyros in no time. But don't forget the best part…the Tzatziki sauce. It's a zesty yogurt-cucumber sauce that I love (even though I'm not a big fan of cucumbers).
Click HERE for this perfect weeknight recipe!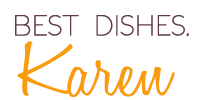 P.S. Make sure to join in all the foodie fun on Twitter, Facebook and Pinterest!