This recipe for S'mores Fondue is your favorite camping treat in an easy slow cooker format.
No need to start a campfire or set up a tent to enjoy the best treat of summer!
I enjoyed the Symphony Bar Fondue so much that I wanted to make another delicious chocolate-y dipping dessert. Seeing that Memorial Day is right around the corner, which to me signifies the beginning of summer vacation, I decided to go with the delicious flavors of s'mores! The fondue is only 3 ingredients–Hershey's bars, marshmallows and cream. You can get really creative with all the different dipping treats. Or you can keep it simple and just dip graham crackers in it. If you have leftovers (not likely) you can use the chocolate sauce as an ice cream topping.

Recipe for CrockPot S'mores Fondue
Makes 10 servings
Ideal slow cooker size: 2-3 quart
Cooking time: 30 minutes
6 (1.55 oz) Hershey's Bars (9.3 total
ounces)
1 cup heavy cream or 1 cup evaporated milk
2 1/2 cups mini marshmallows
Dipping treats: graham crackers,
marshmallows, pretzels, bananas, strawberries, angel food cake, teddy grahams
etc.
1. Break up the candy bars and place
in the slow cooker. Top with the cream and the marshmallows.
2. Cover and cook on HIGH for 30 minutes.
Remove lid and stir until marshmallows are melted and chocolate is
creamy. Turn the slow cooker to warm.
3. Dip your favorite treats in the
chocolate sauce and eat and enjoy! Store leftovers in an airtight
container in the refrigerator. This fondue is also really yummy on top of
ice cream.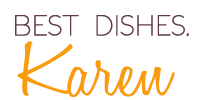 P.S. Follow all of my fun adventures on Instagram!