I randomly created this recipe for barbecue chicken spaghetti a week ago and every one loved it so much I had to make it again and put it on the blog! For some reason my kids don't really eat spaghetti with traditional spaghetti sauce. I think it's weird and quite annoying, especially since they are not picky eaters at all. For heaven's sakes, they'll eat my
mushroom, lentil concoctions
but not spaghetti? What? That's weird. Anyhow, that's how this recipe was created…I wanted to make spaghetti but try a different sauce that perhaps everyone would enjoy. I had some of this
crockpot shredded chicken
on hand and decided it would be perfect. Let me tell you how much I love this
chicken
. It really is so perfect by itself or used in recipes that call for cooked chicken. I love making a huge batch of it and then freezing portions of it in individual plastic freezer bags and then I always have it ready and on hand. The cooked chicken is then tossed with bbq sauce and layered with the spaghetti and a sour cream/cottage cheese mixture and then of course topped with a healthy dose of cheddar. I hope your family loves this recipe as much as mine did! Enjoy!

Recipe for Barbecue Chicken Spaghetti Bake
Makes 6 servings
Cooking time: 20 minutes
8 oz dry spaghetti
2 cups (7 oz) cooked and shredded chicken (use this crockpot recipe, it's so good)
3/4 cup prepared barbecue sauce
1/2 cup cottage cheese
1/2 cup sour cream
1 cup grated cheddar cheese
1. Preheat oven to 350° F. Prepare a 8×8 square baking dish by spraying it with non-stick cooking spray.
2. Cook spaghetti in boiling water until al dente (I broke each of the spaghetti noodles into quarter pieces so that it would be easier to serve and for the kids to eat).
3. Stir the shredded chicken and barbecue sauce together in a small bowl.
4. In another bowl mix the sour cream and cottage cheese together.
5. Place half of the spaghetti noodles in the bottom of the baking dish. Top with dollops of the sour cream/cottage cheese mixture (use half of the mixture). Spread half of the chicken over the top. Repeat.
6. Sprinkle with grated cheddar cheese. Bake for about 20 minutes. Serve immediately and enjoy!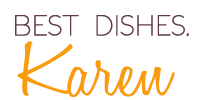 P.S. Find more great chicken recipes in my visual recipe index!