Did you notice anything different about my blog today? No, it didn't get a haircut. No, it didn't lose weight. No, it doesn't have a new outfit.
It got a facelift! A whole brand spanking new design 🙂 Do you like it? Personally, I'm in love!
Let me show you around!
Start at the top. If you're new, you will probably want to click on the pink button at the top left-hand side of the page. This will take you to a page where I share the easiest recipes, the most popular recipes, and my personal recommendations. I also tell you a little about how I got started, about my cookbooks, some kitchen tips and when you can find me on social media.
Next, you'll notice a gray bar at the top. This has helpful links such as home, about/contact, work with me, order my cookbooks, and shop my faves. Those are pretty self-explanatory. The shop my faves is a little amazon store of all my favorite slow cookers and kitchen stuff.
Off to the right you'll see SEARCH THIS BLOG. This is a great tool if you're searching for a particular recipe or ingredient like quinoa or beef brisket or whatever. Below that you'll see how you can receive all my posts by email (I post about 2-3 times per week). This service is free and you can unsubscribe at any time. The third arrow is pointing to all my social media channels. Facebook, Twitter, Pinterest, YouTube, Instagram, Google Plus and finally my RSS feed. Feel free to follow me on any or all of these platforms! I love the interaction 🙂
The recipe index has been placed in a convenient place at the top of the blog. Feel free to search through my archives for all your meal planning needs! Under each post title you'll see some social sharing buttons. I SO appreciate when you share something you think is cool. It helps others discover my blog and only makes this little place on the internet better. If you use Yummly and StumbleUpon, those buttons are at the bottom of the post.
Scroll down and in the sidebar you'll see some fun stuff like popular posts this week, popular posts of all time, archives, labels, cookbook information, and an Amazon shopping tool (when you start your Amazon shopping here you support this blog!).
Now if you're on your mobile phone you're probably saying "um, the blog I'm looking at doesn't look like the one in those screenshots!"
You're right. It doesn't. It's a "mobile friendly version." But you can see all the helpful share buttons, sidebar information, recipe index stuff as long as you keep scrolling down. It's all there!
I'm working on making my recipe index better so stick with me until I do! For now, on mobile the best way to see the recipe index is in a horizontal view.
If you're on a tablet like an IPad, you'll want to tilt the tablet horizontally. Then it will show up like the desktop version with all the helpful features at the touch of a finger.
Comments? Questions? Comment here on this post if you have a suggestion of something I should add to my blog! I'd love to hear from you.
Shout out to Fran from Free Borboleta for making this new and beautiful design happen!
Thanks for stopping by! You're awesome 🙂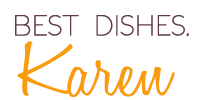 P.S. For a behind the scenes look at my life and blog, follow me on instagram!