Happy National Oreo Day! Yes, it's a thing. And if you love Thin Mints and Oreos you need to try these oreo pops. Basically it's mint oreos on a stick dipped in chocolate and dipped in sprinkles. Pretty tasty and fun for kids too.
These are a perfect treat for St. Patrick's Day too. And really don't take much. Just oreos, melting chocolate, sticks and sprinkles.
Print
Chocolate Covered Mint Oreo Pops
---
---
Instructions
1. Gently twist apart the Oreos.
2. Take a lollipop stick and gently insert it into the creme filling. Then take the displaced creme and kind of pat it over the top of the stick.
3. Pour the chocolate into a microwave safe bowl. On 50% power microwave for 30-45 seconds at a time and stir. The wafers stay in the same shape if not stirred, so make sure to stir every 30-45 seconds. They will burn, so be careful. The chocolate should be nice and creamy. If the chocolate ever hardens during the process you can pop it back into the microwave for another 20-30 seconds and then stir.
4. Using a small spoon, spoon a drop of the chocolate onto the middle of the creme part of the cookie to use as an adhesive. Put the cookie back together, press gently.
5. Using a small spoon swirl some chocolate on each side of the cookie. I found doing it this way was easier than actually dipping the cookie directly into the chocolate. But maybe you'll have better luck than me.
6. Let the chocolate dry for just a few seconds and then over a plate sprinkle some sprinkles over the chocolate on each side of the cookie.
7. Place the cookies on some parchment paper or waxed paper to dry for about 30 minutes. Store in an airtight container.
And for fun here are 25 more Oreo recipes to celebrate Oreo day from my fellow food bloggers. If you want to follow the hashtag #celebratefood2016 you'll see all the fun national food holidays that we have celebrated this year.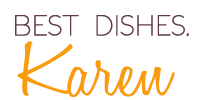 This post contains affiliate links for Amazon. Each time you purchase
something from Amazon that I've linked to I get a few pennies. Thanks so much
for supporting my blog!