For those of you who have followed my blog for a while, you may remember me hosting a March Madness Slow Cooker Tournament. It has been a lot of fun in the past to start with the 64 recipes and whittle it down to the final winning recipe! However, it is also a TON of work to coordinate this project. So this year, I decided to start with only 8 soup recipes.
Do you want to get involved? Do you like trying new recipes? Are you willing to follow the recipes and not swap out ingredients?
Here's how:
2. Put "March Madness" in the subject line
3. You will be making 2 soups (not necessarily on the same day). You will pick a winner and then let me know which soup won and why. Let me know in the email your TOP preference of which soups you want to make. They are grouped together for a reason…so if you want to make the tomato you will make the pork as well, if you want to make the enchilada soup you will be also making the Greek lemon, etc. You will need to make these soups and report back to me by March 15th. That will give you 2 1/2 weeks to try the 2 recipes.
Since we are only making 8 recipes, I'll just need 4 people to help with the first round. So if you really want to get involved let me know right away! Can't wait to get started! Let me know if you have any questions.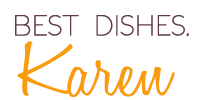 P.S. Make sure to join in all the foodie fun on Twitter, Facebook and Pinterest!