Welcome back to Fun Friday! Oh man, it's the last day of school for my kids today. This year has gone by super fast! I cannot believe that my little guy will be in first grade next year. I'm so happy and so sad about it all at the same time. I keep telling myself how awesomely productive I'll be…no interruptions from children. But my better sense tells me that I don't need kids to get distracted, I can do that all by myself. Sigh. How are you able to stay on task? Sometimes as a mom I feel so ADD. My friend wrote this poem on her blog and I always think about it and laugh because it is sooooo true.
Anyhow, speaking of getting distracted, let's get back to today's awesome post! I've been wanting to write this post for quite some time now. Last summer I saw a picture of myself and thought, wow I look big (I won't be sharing that photo). Sure enough when I stepped on the scale I weighed more than I ever had. My pants were a wee bit tight. Which was really weird for me because I've weighed the same for a very long time and don't fluctuate outside of 2-3 pounds. I guess all the cookie making, food blogging and age is getting to me. So I decided to be really conscious of what I put in my mouth and write it down each day. I used the MyFitnessPal App which was very helpful! I was shocked to see how many calories were in the portions that I put on my plate. Now I'm pretty savvy (at least I like to think so) on nutrition and health because I graduated in health and worked in wellness for a few years before I had my first child. But there is nothing like forcing yourself to measure what you're eating and being very honest with yourself on why the pants are getting smaller.
I figured out very quickly that I would rather eat lots of healthy, low calorie foods instead of a small amount of unhealthy, high calorie foods each day (although I really do love those high calorie foods). I also figured out what food were "worth it" for me and which foods were not. Everybody will have to come to their own conclusion on that one. For me a cookie that is soft and chewy is worth it, while a cupcake is not. A handful of M&Ms are worth it, while a piece of licorice is not. A soft pita bread with hummus is worth it, while a handful of nuts is not.
I also figured out some ways to eat snacks that made you feel happy and satisfied but did not bust the calorie budget for the day. The first one is Fage Greek Yogurt and the triple berries from Costco. I like Fage the best because it's ultra creamy and thick. I just take a glass bowl and microwave half a cup of the berries for about 30 seconds. Then I add in 4 oz of yogurt. (I like to use this scale to measure my foods.) I stir it up all together and add in a little sweetener. It is a yummy treat that is almost like ice cream but without the guilt.
The second snack is spaghetti squash. Have you eaten spaghetti squash? If no, then you need to try it. If yes, then you need to eat it like this. Just take 1 cup of the cooked spaghetti squash and then stir in 1/4 cup of the Oikos Cucumber Dill Dip and salt and pepper to taste. It is a creamy pasta-like snack that is under 100 calories. I cannot tell you how much I love the Oikos Cucumber Dill Dip. I find mine at Walmart. It is only 25 calories for 2 tablespoons. If you love to dip veggies in ranch, this is a good substitution for WAY less calories!
The third snack idea is a little weird but trust me it's really good! If you're a fan of sugar cereals…especially chocolate cereals you'll like this. You take wheat puffs (no, not sugar puffs) and you put Silk Dark Chocolate Almond Milk on top of them. It tastes like a yummy chocolate cereal with only half the calories. I must say that I really really like the dark chocolate almond milk. It has 100 calories for 1 cup and it is super rich and thick. If you're a chocolate lover you will love it! The puffed wheat cereal is awesome because it has a lot of air in in so you can have a whole cup for only 44 calories.
Snack number 4 is awesome. Take 1 banana and slice it up and freeze it. Once it's frozen solid add it to a heavy duty blender like a BlendTec and add in 1 Tbsp of cocoa powder. You get a thick ice cream-like sweet snack. My kids and I really love this one. If you have bananas going bad just stick them in the freezer and have this for dessert. It's so so chocolatey and yummy.
I've shared versions of snack number 5 before but I'll talk about it again because I really love it. Add almond milk, spinach, cocoa, sweetener and frozen strawberries to your blender and blend until really smooth. This smoothie has a horrible color but it tastes really yummy with the chocolate and strawberries in it. My kids love this smoothie too which is a sneaky and easy way to get veggies into their diet.
And just for fun here is a picture of some things that I might grab for and not really realize how many calories are in such a small portion!
This picture gives a little perspective on portions and how much more you can eat with certain foods than with others.
I cannot believe how many calories are in peanut butter. WAH! I love it and will still use it, but I won't be eating it out of the jar with a spoon (at least not daily).
I was able to share these 5 snacks on Fresh Living the other day. Here is my video explaining it: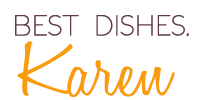 P.S. I hope you're following me on Instagram! It's my favorite social media platform lately. I love to post what I'm eating and cooking and all sorts of fun stuff.