Hi!
Today I'm pleased to be writing a book review for my virtual friend (ha ha), Hope Comerford. She's the author of the blog, A Busy Mom's Slow Cooker Adventures. And she's recently had a cookbook published that's called Slow Cooker Recipes: 10 Ingredients or Less and Gluten-Free.

I'm not one who eats gluten free so I wasn't sure I would really like this cookbook. Well, I was wrong! Eating gluten free is definitely not hard if you're following Hope's recipes 🙂 She makes everything look and sound terrific.
One thing that I really liked about the book is that it starts off with The Basics. Things like how to make your own "cream of" soup. I mean that's something all of us need and want to know, right?? For better health and convenience sake.
Another thing I really like is that all the recipes have 10 ingredients or less. I get easily overwhelmed when I see a recipe that has like 20 ingredients. Hope uses ingredients that most of you probably already have on hand.
In addition, each recipe has a picture to go along with it. This is a big deal! Everyone wants to know what the end product is going to look like!
Hope has a really great conversational tone in her cookbook as well. She makes you feel all powerful in the kitchen and that you really can have GREAT success! This is a great book for a beginner cook as well as someone more seasoned.
Some of the recipes that I look forward to trying are: Mexican Breakfast Casserole, Buffalo Chicken Pasta, Bacon, Spinach and Parmesan Stuffed Meatloaf, Black Bean Soup with Chicken and Salsa and Baked Mac n' Cheese. Can you say YUM?! Oh wow.
If you like your book in print, she offers that option and if you want an e-book you can do that too. Just visit Hope's website here.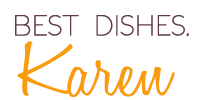 P.S. Make sure to join me on Pinterest!!