Lately, this is my favorite easy dinner to make if I haven't planned anything.  Which is kind of a lot lately.  We've been flying by the seat of our pants this summer and sometimes we just come home ready to eat.  These pizzas are yummy for parents and kids.  They only take 5 minutes to bake!  I'm addicted.
I'm going to share with you something so easy and so yummy that you're going to love.  I've been making these little personal pizzas for several months now and my whole family loves them.
First off, the secret to these pizzas is the Papa Pita Greek Pita Flat Bread.  The pita can be bought at Costco and at some other grocery stores like Walmart
 or Smiths.  They are really yummy soft pitas.  I am totally addicted to them!
Preheat your oven to 425 degrees F.  Then open a can of tomato sauce and add any seasonings you may like (oregano, basil, or other Italian seasonings).  I personally use a tablespoon of  the Shirley J Pizza and Pasta Seasoning.   Spoon about 2-3 Tbsp of the tomato sauce on top of the pita.
Then top your pita with mozzarella cheese and whatever toppings you prefer.
Place the pizzas on a cookie sheet and pop into the oven for 5 minutes!  That's it.
We served these for my little girls birthday party and everyone loved them, even her Grandma.  The pitas are surprisingly a really yummy pizza crust and much easier than making your own dough.  I love these pizzas for busy nights when I haven't planned dinner or as a snack when a lot of kids are playing over at my house.
Try them!!  I promise you'll love it!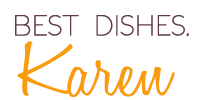 P.S.  Why aren't you following me on Pinterest yet?  It's like a party over there.  Every. Single. Day.