Do you cook for someone that eats gluten free? It doesn't have to be annoying or hectic or overwhelming. There are plenty of slow cooker gluten free recipes that are easy to make and delicious. These recipes are already gluten free…there's not weird ingredients to make them so.

*Before making these recipes, check ingredients and certain products to make sure they are indeed gluten free.
2. Slow Cooker Cheesy Chicken Broccoli and Rice Casserole
4. Slow Cooker Cheesy Ham Chowder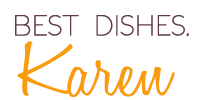 P.S. Do you want some healthy slow cooker recipes? Visit here to get all of my healthy recipes!