Hi Guys,
Happy Friday!
For the past 5+ years I've been blogging on this site almost exclusively slow cooker recipes/tips…That's the name of the blog, right? 365 Days of Slow Cooking. For the other recipes and fun stuff in my life I would always blog at Today's Mama and share non-slow cooker stuff over there. It's been fun blogging for Today's Mama but the paid blogging position is no longer available. I kind of pouted a bit when I found out…not because of the money but because there are SO many things that I want to share–not just slow cooker stuff. I felt that because my blog is called 365 Days of Slow Cooking and that's my schtick I couldn't blog about anything else without losing followers. Well, after thinking it over, I realized that it's my blog and if I have something really awesome that I want to share I should be able to do that without feeling guilty. In fact, it's highly likely that if I think something is really spectacular that many of you will feel the same way. I also felt that I didn't want my blog to get convoluted and forget its original slow cooker/crockpot roots! So I decided to develop a post that will only be on Fridays. It will be dedicated to the fun/non-slow cooker stuff in my life. I hope you will also find fun and useful! I have named it (drum roll, please)…
WOO WOO!!!! I'm so excited!
Today's Fun Friday is brought to you by my really amazing and talented sister, Gina. She is so creative and is constantly thinking of things that amaze me. I saw a picture she posted on Instagram and knew that I wanted to share it with you. She transformed her daughter's shoes from scuffed to glitter-fab!
Here's how she did it:
1. Take a pair of scuffed shoes and gather your supplies. You'll need painter's tape, finger nail polish (whatever color you want), glitter nail polish (same color as base coat) and acrylic clear polish.
2. Use paint tape to evenly tape off the area you want to paint.
3. Use the regular nail polish on the scuffed portion of the shoes. After the nail polish is dried, do one more coat. After the second coat is dry, use the glitter polish to paint over the top of the 2nd coat. Finally, when the glitter polish is dried, use the clear acrylic polish as a final protective coat. Gina also painted the bows of these shoes because they were dirty.
4. Let it dry completely and there you have it…cute new (looking) shoes!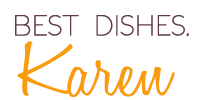 P.S. Make sure to join in all the foodie fun on Twitter!