This is my new favorite sandwich. It can be for breakfast, lunch or dinner! My son and I love to eat this fried egg sandwich with tomato and avocado on whole wheat toast before he heads out to kindergarten. He is the biggest fan of avocados and constantly requests his "avocado sandwich" for lunch. I like this sandwich open faced but if you want to top it with a slice of bread then be my guest.
Fried Egg Sandwich with Tomato and Avocado on Whole Wheat Toast
Makes 1 serving (or 2 depending on how hungry you are)
Prep time: 10 minutes


1 slice of your favorite whole wheat bread, toasted
1/2 of one avocado, sliced
4 slices of tomatoes
1 tsp mayonnaise
1 tsp Dijon mustard
1 fried egg (I like mine runny but make yours to your desired consistency)


1. Spread the mayonnaise and mustard on the toast.
2. Top with avocado and tomato slices.
3. Finish the sandwich with by topping with a fried egg.
4. Eat and enjoy!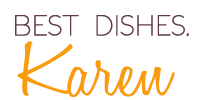 P.S. Like eggs? Have you see my egg board on Pinterest yet? Better start following me!